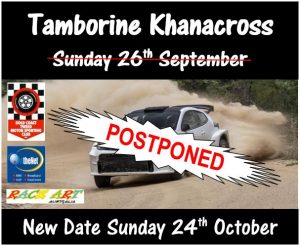 Type of Event: Club Khanacross
Location: Clutha Creek Road, Tamborine
Date: Sunday 24th October 2021
The first competition club khanacross for 2021 will be held at our new venue in Tamborine. Get your car out for a fun day out and enjoy grass roots motorsport in South East Queensland.
Important Notes
There will be two ways of entering the Khanacross. One is via Motorsport Australia and the other by entering downloading the entry. Not all people have a Motorsport Australia login nor people who are entering on an Introductory licence. Competitors entering requiring an introductory licence MUST ask for one from us as they don't go up online.
There are now TWO self scrutiny forms which they need to be filled and returned to the Event Secretary
The surface is a grassed / hard packed surface and rally tyres are permitted
Event Documentation
To be placed here once they are approved by Motorsport Australia
---
Name of Event: Accent Benchtops Three Rivers Rally
Type of Event: State Championship Special Stage Rally
Location: Mundubbera and surrounds, QLD
Date: Saturday 20th November 2021 (To be confirmed by Motorsport Australia)
A new event on the calendar, GCTMC is proud to be be the promoter of the Accent Benchtops Three Rivers Rally. All shire roads, a great way to finish off the 2021 McConkey & Harcourts Solutions QLD Rally Championship, Clubman Series and Next Level Creations Novice Series.
Event Documentation