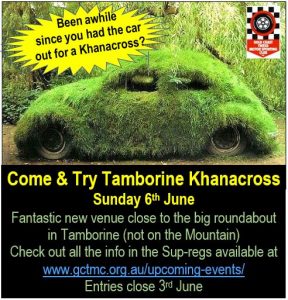 Type of Event: 'Come & Try' Khanacross
Location: Clutha Creek Road, Tamborine
Date: Sunday 6th June 2021
This will be a 'Come and Try event' with no official timing or results being published. This event will include Driver Training activities. Motorsport Australia Introductory Licences will be available.
Note: People need to download the forms under Event Documentation via a computer. At the top of the page in the yellow strip yellow click "enable editing", then they can fill out the form directly onto the page. Unless you have full versions of Microsoft Word / Adobe Acrobat installed on your phone and/or tablet, it will not be able to be completed.
Please send all entries to John Careless and not Tony Taylor.
Event Documentation