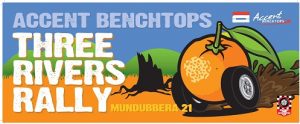 Name of Event: Accent Benchtops Three Rivers Rally
Type of Event: State Championship Special Stage Rally
Location: Mundubbera and surrounds, QLD
Date: CANCELLED
The Organising Team with great regret have the need to inform all participants and interested parties that the Event will be cancelled for 2021 with a new Event in 2022 with same roads and format.
Heavy rain with high accumulated totals are highly likely in the days to come.
Road damage that may make gullies and crossovers impassable to normal road vehicles are unlikely to be repaired prior to the Rally.
Of the highest consideration is the for the ability of emergency vehicles such as Ambulances to traverse the course speedily. Also the fact that not all of our wonderful Volunteer Officials drive 4WDs has also been a big consideration.
The decision to postpone was made early so as to minimise the inconvenience as much as possible.
The Organisers apologise for any and all inconvenience but also thank you for your understanding.
These decisions are agonising and may not always be correct but have to be made with reasonable notice.
Yours Sincerely
John Keen
Clerk of Course.