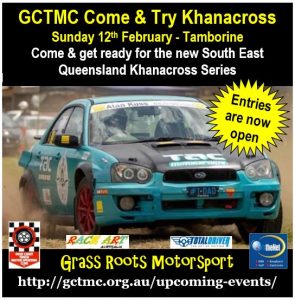 Type of Event: Come & Try Tamborine Khanacross
Location: Clutha Creek Road, Tamborine (700m from intersection with Waterford -Tamborine Road)
Date: 12th February 2023
Bring the shopping car, bring the club car or bring your full house rally car. All you need is road and/or rally tyres, an extinguisher, Compulsory Third Party (CTP) extension for Queensland registered cars, any car club membership and a Motorsport Australia licence.
It's a fantastic venue for juniors to start in this great sport of rallying. Juniors get dad to sit in with you and give you some pointers or some of the senior experienced drivers will be on hand to give you some tips. It is run on a Motorsport Australia permit.
Event Documentation