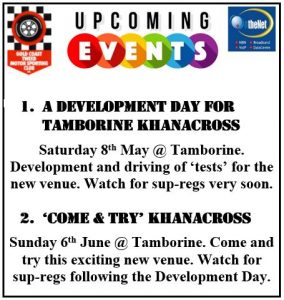 Type of Event: GCTMC Development Day
Location: Clutha Creek Road, Tamborine
Date: Sunday 9th May 2021
The event shall be known as A Development Day for Tamborine Khanacross.
This will be a non-competitive event with no official timing or result being published. The intent is to set out 'tests' (courses), slash the grass on these tests, then drive over the tests to simulate what will result during competitive driving. It is expected all those attending will assist with the development of the tests. Participant numbers driving on these tests will be limited by the organisers. This event will NOT include Driver Training activities. Introductory Licences will NOT be available.
Event Documentation
---
Type of Event: 'Come & Try' Khanacross
Location: Clutha Creek Road, Tamborine
Date: Sunday 6th June 2021
Watch for supplementary regulations following the Development Day