Club Membership
Membership for Juniors and adults is $60.00 per calendar year commencing 1 January of each year and $80.00 for a family of 2 adults and 2 children up to the age of 18 years. Additional under 18's are $10.00 per membership.
The 2023 Club Membership Online Form is now available.
Note: All family members have to fill out an individual Membership Form to join the club.
Club Structure
General Meetings are held on the third Wednesday of each month at the  The Back Page Sports Bar & Grill, Market Street, Carrara (PDF, 164 KB). It has a great bar, great food and great motor sport memorabilia. Come early and have a drink and a meal before the meeting. There is plenty of parking out the back. Meeting commences at 7:00pm sharp.
The Executive or Management Committee meetings are closed and will be held on the Wednesday night prior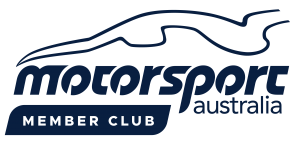 to the general meeting. Venue to be set by the committee. Any member with any business that cannot be placed before a General Meeting or Planning Committee can give notice to the Club Secretary in writing.
The current version of the Club Constitution and By-Laws as of 19th May 2021 (PDF, 291 KB) is available for viewing.
All events conducted by GCTMC are conducted through Motorsport Australia in QLD and in Northern NSW. Juniors are always welcome to join and compete. All senior officials hold the relevant QLD Blue Card as required under the current legislation. Please go to the GCTMC Blue Card page for further information.
GCTMC Club Executive
The Executive or Management Committee of GCTMC Inc comprises the:
President
Vice President
Secretary
Treasurer
Club Captain.
Most Executive or Management Committee meetings regularly include some or all of the remaining position holders to ensure a keen cross linking of information is discussed and prepared for the club members.
Three positions supporting the Executive or Management Committee have been continued for 2023-2024:
Website/Facebook editor/s: Tara Waller & Matt Sosimenko
Club Historian: Michael Bruce
The 2023-2024 club executive is as follows:
| Position | Name | Phone |
| --- | --- | --- |
|   Patron | Peter Lockhart | |
|   President |  Mark Davies | 0414 668 630 |
|   Vice President |  John Sibley | 0437 557 239 |
|   Secretary |  Gary Reid | 0433 517 165 |
|   Treasurer |  Stephen Davies | 0419 495 174 |
|   Club Captain |  Matt Henderson | 0434 618 347 |
|   Membership Officer |  Tony Taylor | 0419 787 783 |
|   Motorsport Australia Delegate |  Steven Richardson | 0497 259 779 |
|   Motorsport Australia Alt Delegate |  Mark Davies | 04164 668 630 |
|   Pointscorer |  Mick Bruce | 0416 140 948 |
Contact details
Contacting the Gold Coast Tweed Motorsporting Club Inc. can be carried out through the following addresses:
E-mail: gbr1357@gmail.com
Phone:  Gary Reid – 0433 517 165
Postal: P.O. Box 1503 Mudgeeraba Post Office, Mudgeeraba QLD 4213