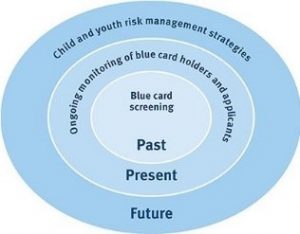 Motorsport Australia have placed the importance of the Blue Card System in Queensland and how this could impact volunteers in Sport and Active Recreation.
If you are a volunteer providing services directed mainly towards children or conducting activities mainly involving children as part of sport and active recreation you WILL require a Blue Card.
Some examples of this include:
A volunteer coach or coaches' assistant of a junior sporting team, e.g. a coach at the local cricket or soccer club.
A volunteer trainer, e.g. a trainer preparing nippers for a surf lifesaving competition.
A chaperone for a junior sports team on an interstate or international trip, e.g. a grandparent acting as a chaperone for a junior hockey team on a trip.
A volunteer supporting athletes at a junior swimming meet.
A volunteer member of a board/committee for a community organisation which provides regulated activities for children.
As many of the club's activities involve children but are not singularly aimed at children we believe most of our volunteers will not require a Blue Card. However, that could change in the future and it's important that each of you access your requirement for a Blue Card individually. Visit the Blue Card website for more information.
Important information